:::
TIPO Hosts the "2019 Seminar on the IP Landscape in New Southbound Countries" on August 27-28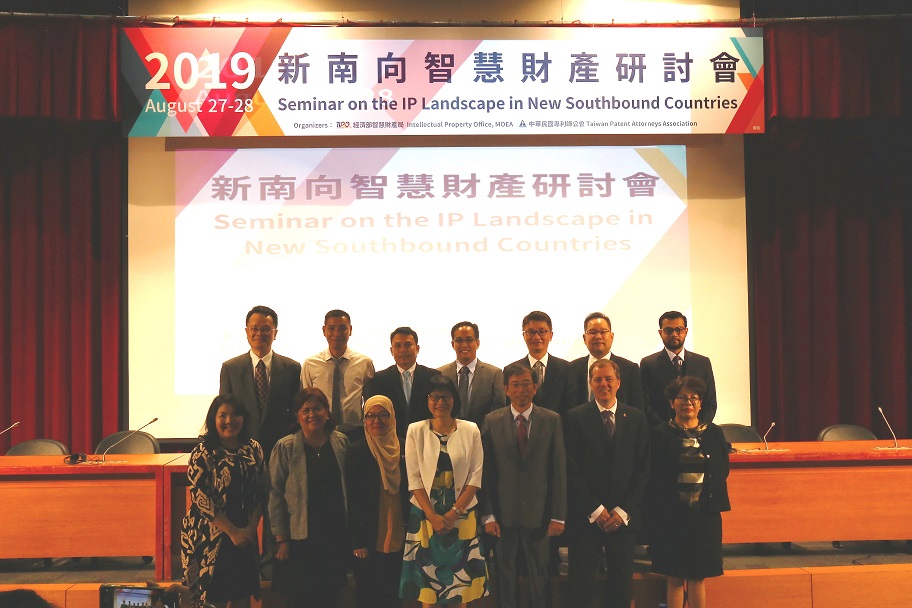 On August 27-28, TIPO and Taiwan Patent Attorneys Association jointly hosted the "2019 Seminar on the IP Landscape in New Southbound Countries" at the NTU College of Law Tsai Lecture Hall. Mrs. Zaiton Nordin, Direcor of Patent Formality & International Registration Division of the MyIPO, Ms. Melanie G. Binauhan, Intellectual Property Rights Specialist IV/ Assistant Division Chief of the IPOPHL, Mr. Panja Haohan, Senior Patent Examiner (Professional Level) of the DIP, Mr. Phan Thanh Hai, Deputy Director, Patent Examination Center of the NOIP, as well as patent attorneys from Malaysia, the Philippines, Thailand, Vietnam, Indonesia, and India were invited to give lectures at the seminar. These lecturers shared information and exchanged feedback regarding patent regimes of respective countries, examination practices, and the things to note when filing applications and protecting patents for Taiwanese companies. Over 230 people comprising government officials, scholars, industry representatives, and patent attorneys attended the event and had lively interactions.
Recent years have seen economic prosperity in New Southbound countries, now becoming a ginormous economic and trading market. Given this, IPR serves a key function of protecting and adding value to corporations' operation results. When doing business or investing in New Southbound countries, corporations will increase development advantage if they are able to make good use of local IP regimes and formulate appropriate IP strategies. To increase domestic corporations' understanding of IP regimes in New Southbound countries, TIPO in 2017 and 2018 held the "Seminar on IP Landscape in Southeast Asian countries," which was well received. As such, TIPO hosted this year's "Seminar on the IP Landscape in New Southbound Countries," which was larger in scale than the previous events. The discussion addressed patent-related issues, which in turn may serve as useful reference for domestic corporations doing business or planning prospective investment in New Southbound countries.
During the meeting, there was in-depth exchange of insights and experiences between participants, experts from the IP offices, and patent attorneys of six New Southbound countries. As such, the seminar did help domestic participants to better understand patent legal regimes and practices in these countries. The seminar was considered to be very successful among all the participants.
Publish Date : 2019-09-12
Update : 2019-09-16
Organization : International Affairs and Planning Division
Visitors : 1508