:::
Register for the honorable 2020 National Invention and Creation Award now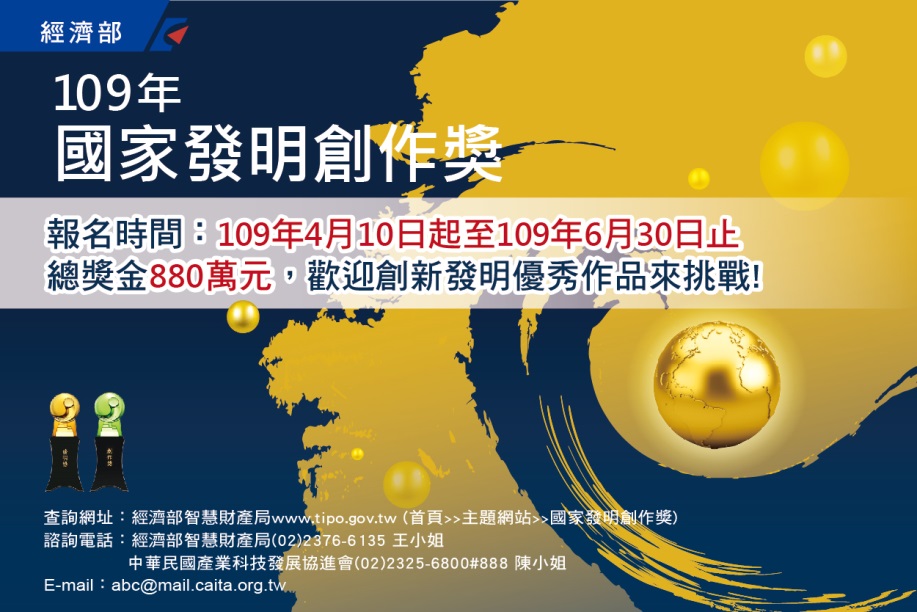 To promote innovation, encourage people to invent and create, and boost industrial development, TIPO is to hold the National Invention and Creation Award again in 2020 with NT$8.8 million cash awards. By choosing top-quality patents and awarding excellent inventors, TIPO hopes to speed up the commercialization and industrialization of patents, thereby instilling new energy into the country's economy and helping it to grow.
There are two categories for the award: invention and creation. Both categories are open to inventors, creators or designers who have obtained an invention, a utility model patent, or design patent in Taiwan over the past six years. Other than receiving grants, certificates of merit, and trophies, the winners will be invited to display their works at the 2021 Taiwan Innotech Expo free of charge, thus winning more business opportunities!
To explain the selection process, TIPO will hold six information events throughout Taiwan, respectively in Hsinchu (May 4), Tainan (May 5), Kaohsiung (May 5), Hualien (May 8), Taichung (May 12), and Taipei (May 15). Please feel free to take part.
For more information (in Mandarin), please visit:
Register online for the information event 
Publish Date : 2020-04-15
Update : 2020-04-15
Organization : International Affairs and Planning Division
Visitors : 300