:::
TIPO & Taiwan Patent Attorneys Association Co-host the Awards Ceremony for the Patent Specification Drafting Competition for the Youth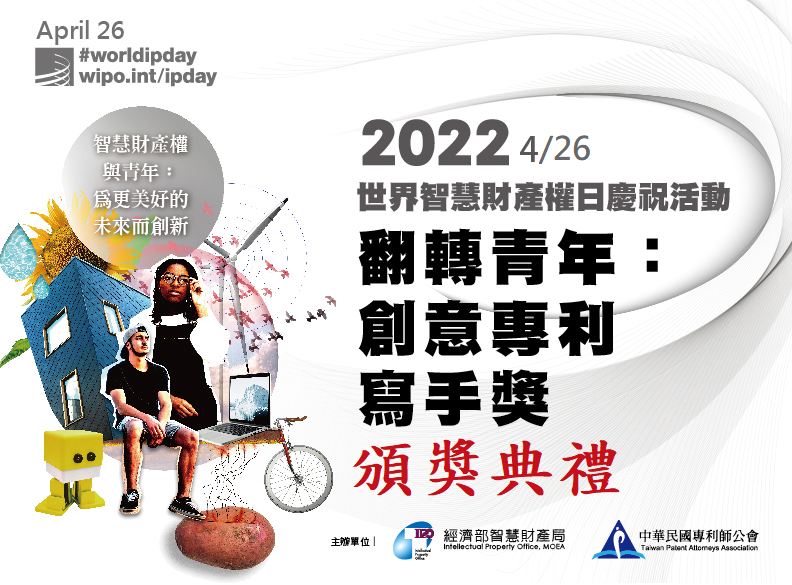 The Taiwan Intellectual Property Office (TIPO) partnered with the Taiwan Patent Attorneys Association (TWPAA) on April 26 to host Embracing IP to Chase Dreams – the 2022 Entrepreneur's Forum, which is part of the 2022 World IP Day event series. The top three contestants - "WIPO's Penghu Bay (WIPO的澎湖灣)", "Tokkyo Heidan (特許兵團)", and "the IPR Trio (智權王道三人眾)" - of the Patent Specification Drafting Competition for the Youth were acknowledged in an awards ceremony just before the forum began.
The Patent Specification Drafting Competition for the Youth was held concurrently in three separate locations (i.e., North, Central, and South Taiwan) and attracted many contestants. In fact, registration closed before the deadline when a total of 29 teams of students from 19 Taiwan colleges and universities signed up and filled the registration limit.
Contestant teams took classes and competed over a period of two days (April 16 & 17), and the three winning teams were selected by a panel of judges consisting of industry experts and government officials.
Each year, TIPO hosts various events to celebrate World IP Day. The theme this year - IP and Youth: Innovating for a Better Future – focuses on encouraging the younger generation to cultivate curiosity and creativity in the post-pandemic era, emphasizing that those brave enough to innovate and change will always remain competitive.
This year's main event is the Patent Specification Drafting Competition for the Youth (翻轉青年:創意專利寫手獎), which uses the Chinese characters "翻轉" to express change, disruption, and new creations. It hopes to inspire creative thinking amongst the younger generation, so that one day, they may turn these dreams into reality. During the two days of the event, undergraduate students were introduced to basic concepts in IPR and patent specifications, in hopes that with the guidance of professional instructors, youths may practice converting creative ideas into tangible IP assets.
Among the contestants, several teams were composed of students from different universities: "Long Sheng Boys (龍昇大帥哥)" from National Chung Hsing University and Chung Shan Medical University; "Growing Profits (利來順收)" from Shu-Te University and Sun Yat-sen University; "REVERSAL DESTINY" from National Central University and Chung Yuan Christian University; "the IPR Trio (智權王道三人眾)" from National Defense Univeristy, National Central University, and Taipei Tech; "Taiwan Corgy Loves Dumplings (台灣柯基吃餃子)" from National Tsing Hua University and Taiwan Tech; and "IP NOVICES (智財NOVICES)" from National Chung Hsing University and Fu Jen Catholic Univerisity.
In addition to teams with students from different universities, participants also included several graduate and doctoral students, as well as students majoring in the STEM sciences (e.g., electrical and mechanical engineering) and IP-related disciplines. Other fields of study include law, applied mathematics, biomedical sciences, and senior citizen services – even students majoring in Chinese and history were enrolled in the competition. The diversity of majors attests to the fact that invention and creation is an endeavor that transcends the boundaries of traditional disciplinaries – anyone brave enough to innovate can become an inventor.
Publish Date : 2022-05-12
Update : 2022-05-12
Organization : International Legal Affairs Office
Visitors : 594