:::
Taiwan Signs MoU with India to Bolster IPR Cooperation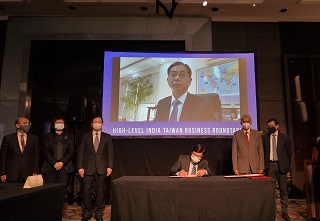 The Taiwan-India MoU on Intellectual Property Rights was signed by Representative Baushuan Ger of the Taipei Economic and Cultural Center in India and Director General Gourangalal Das of the Indian Taipei Association at the High Level India Taiwan Business Roundtable on May 18, 2022. The signing ceremony was witnessed by Vice Minister Chuan-Neng Lin of the Ministry of Economic Affairs and Director General Shu-Min Hong of the Taiwan Intellectual Property Office. The exchange of diplomatic instruments was subsequently completed on June 6, opening a new chapter of cooperation between Taiwan and India in the field of IPR.
Under the framework of this MoU, both sides will jointly facilitate activities such as expert exchange programs, training courses, and experience exchange regarding IP awareness campaigns. Other collaborative efforts are also underway, such as facilitating the protection of traditional knowledge and setting up a joint committee to coordinate the implementation of related cooperation activities.
India is an exceedingly important country in Taiwan's New Southbound Policy. Not only will the signing of the MoU deepen both Taiwan and India's understanding of each other's IP fields, but also enhance an IP protection environment for the benefit of industrial development and applicants of both sides.
Related Photos
Publish Date : 2022-06-13
Update : 2022-06-13
Organization : International Affairs and Planning Division
Visitors : 520